The collaborative project between Matt and I is finally out!
"Dual" is an adventurous set of through-composed tunes, mixing math-rock grooves and neoclassical polyphony.
Matt composed, developed and recorded (September '15 in Brooklyn) his drum concepts first. It involves polymeters, equivalence, variations, etc... but I'd rather skip any technical explanation for now (it breaks the charm + bores most people (including myself! But I admit my younger self used to love that))
I then analyzed and organized the 25 minutes of drumming I got from this one-day session. I started writing counterpoint in a very instinctive way, most of the time directly in the computer. Also on good ole paper (paper is the best). I also adapted older sketches and made them fit with Matt's grooves. A real combination puzzle. Endless possibilities. Decisions, decisions.
Other novelties for me: The presence of three guitarists. The use of a new bass - a 1986 Yamaha BB5000. The recording of that bass in my very room. Also I played/sequenced all keyboard parts.
"Dual" is a 26-minute collection of short, through-composed tunes. The jazz content (some say jazz virus) has been reduced to a barely noticeable amount. Don't get me wrong: I love improvisation - especially in front of an audience, but written music has that timeless, immortal force.
Thanks for listening.
This music is for entertainment and spiritual purposes.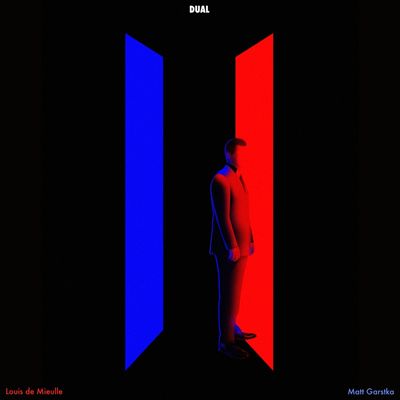 Stream/buy Dual on Bandcamp
Buy on CdBaby, iTunes, Amazon
Stream on iTunes, Spotify, Deezer

DUAL:

Having a double character or nature
A notion of paired concepts that mirror one another
Within every independent entity lies a part of its opposite
Contrast between Set (disorder) and Osiris (order)
Mind and Body, Consciousness and Matter, Soul and Body
Abstract musical ideas - and their realization.
CREDITS:
All drum grooves and concepts developed by Matt Garstka and recorded first.
All melodies and harmonies added by Louis de Mieulle afterwards. Drums edited accordingly.
From the 25 minutes of recorded drums, about an hour of music was created.
DUAL is the first part of that collaboration. Second part to be released Summer '18.
released December 8, 2017

Matt Garstka: Rhythmic concepts, drums
Louis de Mieulle: Melodic content, electric bass, keyboards, editing
David Potaux-Razel, Aki Ishiguro, Jussi Reijonen: Guitars

Mixed by Alex Syner
Mastered by Rich Morales at Super Fine Audio
Produced by Louis de Mieulle

Artwork: Mark Pernice "Exit Right"