Reviews of DUAL, one of them by long-time supporter Roger Trenwith, another one by Dave Tremblay, who runs the great website "Can this even be called Music?". The third one by Rebecca Rothschild from "Divide & Conquer".
DUAL by Dave Tremblay - "Can this even be called Music?"
Bassist and composer Louis de Mieulle's album with drummer extraordinaire Matt Garstka is the underground modern jazz album you didn't know you needed. Dual is based off of Matt's beats – whether they are improvised or not is unknown –, in a similar fashion to Marco Minnemann's Normalizer project, I suppose. The beats then serve as the foundation of the songs, and the result is a truly impressionist and modern architecture. Polyrhythms galore, and the harmonic and melodic concepts brought on by Louis and the various guest guitarists are infectious. Awesome album, and I can't wait for the second part of this concept release, due this summer.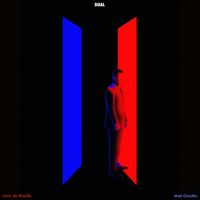 DUAL by Roger Trenwith - The Progressive Aspect
Following on from the rather fine but criminally ignored stars, plants & bugs album in 2015, French nu-fusion maestro Louis de Mieulle has teamed up with American drummer Matt Garstka, best known for his stint with Animals as Leaders. In an unusual set up, Matt recorded 25 minutes of sometimes bewilderingly complex rhythms, after which Louis, with the aid of three guest guitarists, recorded everything else on top. An hour's worth of music was created, this being the first part. The second will be released later in the year.
The nature of Matt's rhythms means that the overlaid music is a spidery, hypnotic beast that develops into strange textures and melodies. It is gratifying that amongst all the identikit fusion out there these days that someone is taking risks and forging new paths. If you have an ear for true progressive music, you need to hear this.
DUAL by Rebecca Rothschild - Divide & Conquer
East coast meets west coast wit the dynamic duo of Louis De Mieulle and Matt Garstka. De Mieulle hails from France but is currently residing in New York City. At home in France, he studied classical music and then in the states, educated himself on black American music. Matt Garstka is a drummer living in Los Angeles and has been classified as a drum "superhero." I have no idea how these two met, and they seem perfectly content to deny me that fun little factoid. I don't take offense. I like when there's a little mystery to be solved. These people on the opposite of the country came together to create the album Dual. This is a fascinating and wildly experiment romp of math rock and neoclassical polyphony.

The music is enigmatic and at times downright perplexing. There is a mix of groovy rock vibes combined with electronic synths and sampled elements. I would say there was a section in each of the eight tracks that I enjoyed. While the album may sound a little off the walls, there is a method at work. There is a pattern where the two build up the individual elements that will eventually formulate a few bars of what sounds like traditional music. They will then deconstruct that traditional just as quickly. Sometimes there are some added parties, a few micro experiments within the larger experiment. Some of it is fun to hear and admittedly I found some of it to be downright grating to the ears.

The two have their roles to play. De Mieulle brings these fabulous little grooves into the mix while Garstka explores the not so beaten of percussion methods in all forms. It's a very enigmatic mix that takes me to acid jazz and experimental rock places I have not been before. I think this is an album that will have great appeal for musicians more than anyone else. I can see jazz, experimental and even indie bands being sucked into their construction and deconstruction of everything. I'll say this, as I write this review, I find it strangely ideal to have it playing while working. There's a productivity to the music that is motivating.

I can see a good deal of non-musicians like myself struggling to find the music appealing at all times. As I said there were some sections that weren't easy on  my ears. I think that some changes in the production process may be able to help with that because I don't mind erratic or dizzying movements. The album was recorded, mixed and mastered in New York City.

​The big sell on this album is originality and boldness. I would say it's definitely tailored to a very niche market. I respect these two for fully committing to their vision.