Track name: SCAPEGOAT 2
Composed: 2009-2011 (Above: Scapegoat 2) (some annotations are missing)
The Title: 
Another "Scapegoat"? I guess I like the sound of that word... Note that this track is dedicated to both scapegoats and tormenters.
The Music: 
(you can find this track in the player on the left)
This tune is a premiere for me, because:
- it's the shortest I ever wrote (4:32). (The longest I wrote was about 20 minutes long - Soundchaser's "Tableau III"). I remember a time when I was getting very excited for longer tunes (meaning: too long for the radio format). Today I enjoy concison a lot more. 

- it's my first attempt at incorporating hip-hop into my music. I was even thinking about putting some rapping on it. In the end, it might be the most accessible tune on the album - kind of a single!
An example of my love for recycling: the chord progression of the chorus is the same as in Scapegoat 1 (albeit transposed one semitone higher).
As for Scapegoat 1, the whole piece is built around the original bass pattern, from which all the other parts are derived.
The form is a song form (verse/chorus/verse/chorus...)
The Recording:
One take was necessary for bass and drums. Then we added the piano (Cas), organ (Cas), Rhodes (me), and synth (me).
The synth used was a cute Yamaha CS-01 (pictured below, in front of a tape delay).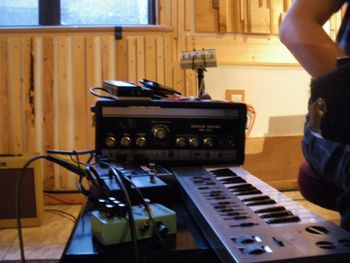 The organ was a vintage Hammond C3 with Leslie: